Aruba Wedding Photographer
Meet, John Zimmerman from Aruba
"Hi, I'm John, a storyteller and a documentary wedding photographer of love"
Standing behind the cameras as a wedding photographer. I strive to capture the beauty of your entire wedding day in Aruba and that includes your guests and family members, the most important people in your life. The wedding photography I produce is created with honesty and integrity.
My documentary wedding photography approach is all about capturing the special moments, the emotions and the energy throughout the day. Weddings are always filled with a wide range of joyful moments and interactions that provide an endless collection of precious images to capture.
Not just the big moments but also those in-between; they can often be the most powerful: a loving gaze, a tear sliding down a cheek nor a tender moment with the flower girl; these images will be your memories, even if you did not notice them happening.
If you're looking for a Aruba wedding photographer in Aruba who cares about creating the best photos for your beach wedding as much as you do, you are at the right place. Therefore your choice of a wedding photographer is key!  Scroll below or visit the client reviews or portfolio page to learn more about my work.
"I believe in the power of stories"
My vision is to tell your unique Aruba wedding story through timeless photos. Let me capture every precious moments so you can relive them for years to come.
Your wedding story STARTS HERE!
For achieve my goal, I continuously measure my performance in comparison to the given request. There fore an open line of communication is very important.
By reading people's behavior I quickly adjust to achieve the best possible shot of the moment. Every new scenario is different and requires adaptation under pressure.
My camera settings are intentional and uses my experience to my advantage. Very reliable and very responsible. My approach is very professional for the final results.
Even more my photography editing style can be describe as vibrant, colorful & clean. I prefer to leave the wedding images natural. Above all the elements of editing are absolutely vital as a wedding photographer. It is to make the photographs ready for professional printing.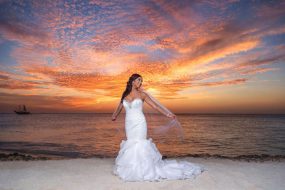 First of all image editing is one of the most important steps in the post production process. Easiest explained: the exposure, color, sharpness, etc are adjusted. Therefore various techniques will be applied. Furthermore editing is about processing a shot according to my style and is in tune with my camera settings and my approach to the subject.
FOR AVAILABILITY
fill in the contact form below
FOR ANY QUESTIONS
fill in the contact form below